We are currently looking for Dental Associates to join our team. We are a fun, hardworking and ambitious team made up of a small group of dental practices across central Scotland.
Working for our team will provide you with the chance to create your own profile and grow your client base. We offer a mix of both NHS and private treatments, providing great opportunities to get involved in a variety of cases and work with different patients. You will have the opportunity to widen your skillset through referrals across our practices while working with a great team.
We are dedicated to providing the very best dental care for every patient in our community. This dedication was particularly important as we worked hard to keep our practices open through lockdown, meaning we came out stronger on the other side, which we are incredibly proud of.
As well as patient care, the wellbeing of our staff is a top priority for EnVisage. We offer mental health support and have partnered with an Inverclyde counselling and therapy group, Mind Mosaic, to provide mental health training and support for our team when needed.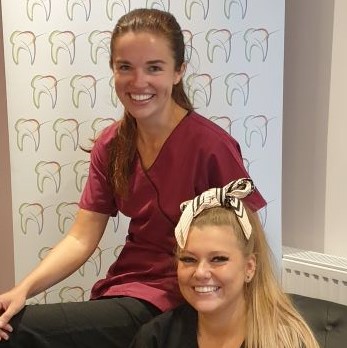 Let's hear from our Kilmacolm team on their experiences working for EnVisage:
I really enjoy working as a Dental Associate at EnVisage Kilmacolm,  during my time here I have had the pleasure of treating both new and existing patients with patient care being my number one priority. The entire team is fantastic to work with as well as the management team. I know I can contact any of them and they will be happy to help. I am currently gaining my qualifications in Facial Aesthetics and I am now able to provide Composite Bonding due to the support provided by the EnVisage team.
I am a Dental Associate for EnVisage, working across two of their practices and I have thoroughly enjoyed my experience working here over the past two years. The team at EnVisage provides plenty of help and support whenever needed – there's always someone at the end of the phone who can help which is extremely reassuring being in what can sometimes be a high-stress job. I am extremely proud to be part of the team.
I left my job of 10 years to join the EnVisage team, which was a massive change and step for me but one that I have not regretted in the slightest! The support from EnVisage management is something I will never forget, they have been there to help every step of the way. They are always eager to listen to any problems and take on the ideas that I may have to help our practice/business grow. Here at EnVisage Kilmacolm, our team is like a family; we work efficiently and professionally together whilst keeping it fun and light-hearted at work too!
Over the past year, I have watched our practice grow and develop, I have learned new skills (such as working with Dental Implants alongside Dr. Tamber) and we are offering more and more treatments to our patients which is a great development for the practice.
I have worked at EnVisage Kilmacolm for three years now, starting as a receptionist and then progressing to dental nursing. I  qualified as Dental Nurse last year – learning during the pandemic was very challenging but so rewarding now that I can put my new skills to use in surgery! EnVisage has been great especially during these difficult times, helping me through my course and I feel with our team I can reach new goals and strive to do lots more in dentistry! Here at Kilmacolm we are like a family and have a great team and patient rapport.